LATE TRYOUT INFORMATION - CLICK HERE
Top Gun J4 competed and won the Small Junior 4 division at the Summit Championships.
The Summit, took place on May 4-5 2013 in Orlando Florida, and showcased talented all star teams from all levels. Only 10% of the all star teams that compete throughout the country were offered invitations to the Summit championships.
The Summit included 355 teams, 13 teams which were in the Small Junior 4 Division.

Congratulations to the Top Gun J4 Team for an amazing accomplishment.

Feel the sensation of the Jaguar Nation!!!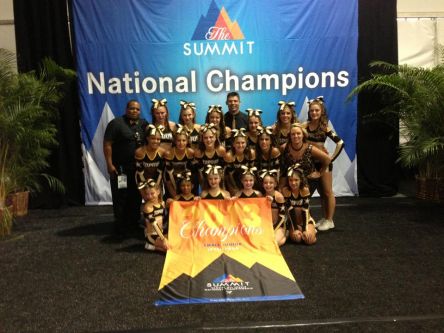 SUMMER CAMP INFORMATION - CLICK HERE
Anyone interested in selling and/or purchasing a property in Florida, please allow my Title company the opportunity to provided you with an estimate of closing costs.
**Discounts available for Top Gun Members and their families**
John Bencomo (Owner, Top Gun All Stars and South Florida Trust & Title, LLC)
South Florida Trust & Title, LLC
27911 Crown Lake Blvd #101
Bonita Springs, FL 34135
Phone: 239-444-3799
Fax: 239-444-5534
Email: john@sofltitle.com or tgacoach@aol.com